Slut Tie Up Bodycpn Dress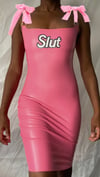 A revamp on the naughty favourite, this new rendition of the Lewd dress is a slinky sleeveless number with matching delicate velvet ribbon tie details. Shown here in the colour candy pink, the dress is mini in length and has a square neckline with a centered 'Slut' logo in Barbie font. This dress is slip on, cut and glued by hand in London.
Please note - your item will arrive with talcum powder on both the inside and outside of the garment as this prevents the item from sticking to itself. Simply wipe with a damp lint-free cloth to remove this before shining the garment.
DELIVERY:
All items from Love Penny Plane are made to order and come with a 4-6 week processing time before dispatch. Please make sure you place your order in good time if you require your garment for a special occasion or event.
HOW TO WEAR LATEX:
*Avoid long nails and jewelry as they can tear and permanently stain the latex.*
1. Cover your body and the inside of the garment in either latex dressing aid or talcum powder prior to trying it on.
2. Undo any zips.
3. Ease the garment on slowly without tugging or pulling. To get a better grip, slide your hand in between the garment and your skin and pull it up.
4. Remove any excess baby powder on the outside with a lint free cloth.
5. Use a silicone spray on the latex and rub with a soft cloth to achieve the shiny glossy look.
ALLERGEN INFORMATION
Latex rubber clothing is unsuitable for those with an allergy to latex. It is the responsibility of the customer to ensure that they do not have this allergy before purchasing.
Made from Latex Rubber.
Latex has a lot of stretch [up to 2-3 inches]
Dress length from shoulder to hem: Approx inches
Materials: Latex (100% Latex)
Wipe Clean Only
Model is 5 ft 3 and wears size XS - UK 8
Colour may vary due to lighting on images and colour settings on your viewing device/monitor.
Please refer to the size guide pictured for measurements. Latex has a lot of stretch [up to 2-3 inches] so it is recommended that if you are in between sizes to size down, as this set is designed for a sleek bodycon fit.
Share